WORLDCON
---
29. Rujna 1995. otpočeo je 53. po redu Worldcon.
Ova velika manifestacija dogodila se u Glasgowu i trajala je nekih 4-5 dana, uz stalna predavanja, kino i video projekcije, tulume i izložbe. Pola ogromne dvorane Scotisch Exhibition Centra je zauzimao tzv. Dealers Room (prodaja knjiga, fanzina, video i audio kaseta, plakata i Roleplayinga), tako da nam knjiga nije nedostajalo. Sve je to bilo po vrlo pristupačnim cjenama. Rabljena se knjiga mogla kupiti po jednu funtu, što je otprilike osam kuna preračunato u hrvatsku valutu.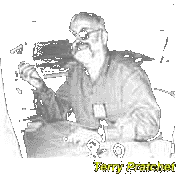 Lovci na autograme također su mogli trljati ruke. Naime, koliko se ja mogu prisjetiti, na Intersection-u su, od poznatijih pisaca prisustvovali: Connie Willis, George R. R. Martin, Gregori Benford, Louis McMaister Bujold, Robert Silverberg i Terry Pratchet. Od ilustratora počasni gost je bio Les Edwards čije su ilustracije naprosto fenomenalne.
Vjerojatno će se većina vas iznenaditi kada kažem da se Zagreb natječe za Worldcon 1999. uz Australiju, Rusiju i Las Vegas koji se u Glasgowu nije ni kandidirao. Ako malo bolje razmislite uvidjet ćete da većina tih zemalja nije baš prikladna za Wolrdcon, Las Vegasu to nije baš ekonomski prihvatljivo. Većina predviđa da se L. V. neće ni kandidirati. Postoji samo pitanje da li će se nakon aljkavo organiziranog Sferakona netko ozbiljnije prihvatiti organizacije tako ozbiljne manifestacije kao što je Worldcon.
Na ovogodišnjem Worldcon-u dogodio se i jedan nemili slučaj. John Brunner, poznati pisac i dobitnik Hugoa preminuo je na konvenciji. To je, kako kaže Silverberg prvi ovakav slučaj na Woldconu, tako da konvenciju možemo pamtiti, ako ne po dobroj zabavi onda po smrti ovog barda sf scene.
Aleksandar Kristek

SF NAGRADE

---
Hugo:

Novel - Mirror Dance by Lois McMaster Bujold
Novella - Seven Vievs of Olduvai Gorge by Mike Resnick
Novellete - The Martian Child by David Gerrold
Short Story - None So Blind by Joe Haldeman
Non-Fiction Book - I. Asimov: A Memoir by Isaac Asimov
Dramatic Presentation - All Good Things-Star Trek: The Next Generation
Professional Editor - Gardner Dozois
Professional Artist - Jim Burns
Original Artwork - Lady Cottington's Pressed Fairy Book by Brian Froude
Semi-Prozine - Interzone edited by David Pringle
Fanzine - Ansible edited by Dave Langford
Fan Writer - Dave Langford
Fan Artist - Teddy Harvia
John W. Campbell Award - Jeff Noon

European SF Society ESFS/Eurocon Awards:

Best Writer - Alain le Bussy (Belgium)
Best Artist - Juraj Maxon (Slovakia)
Best Publisher - Babel Publications (Netherlands)
Best Journal - Andromeda Nachrichten (Germany)
Best Promoter - Jaroslav Osla jr (Czech Republic) (BW)